Callus Peel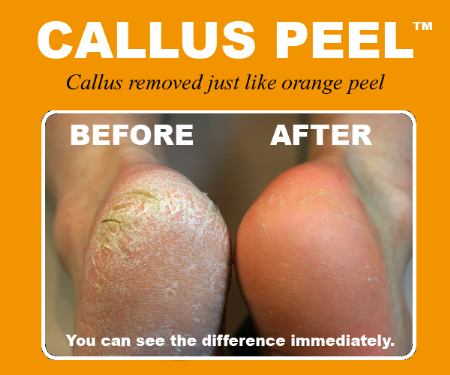 How long does it take?
To treat both feet, it takes only 20 minutes – 15 minutes for the patches to soften the skin and 5 minutes for the rest of the treatment.
How often should I have a treatment?
We recommend a treatment every 2-3 weeks, although results are seen after the first treatment.
Is it safe?
Yes. Callus Peel uses cosmetic ingredients only.
Is it hygienic?
Yes. We are fully qualified beauticians and know all the procedures for hygiene. The Callus Peel skin softener (sachets) are individually packaged. The scraper, that is used to remove the callus, can be sterilised. The foot file has replaceable pads.
What are the main ingredients?
Aqua, Glycerin, Nonoxynol-12, Carbomer, Ethanol, Sodium Hydroxide, Tataric Acid, Lactic Acid, Pyroglutamic Acid, Ethoxy Diglycol. Don't be alarmed by these as we use AHA's (Alpha Hydroxy Acid) on our face!
Does the treatment hurt?
No, it doesn't hurt at all – on the contrary. It feels like you are receiving a Reflexology treatment. It will only hurt if you have cuts on your skin. Dry cracks are fine, as long as they are not weeping/bleeding.
Any side effects?
None, as Callus Peel is only for callused/dry areas on the feet.
Why does Calluses appear?
Pressure applied to the feet over time causes the skin to harden and calluses to appear.
Callus Treatment 1
(30 mins) £20.00
Foot spa soak
Peel Treatment
Buff and rasp
Moisturising foot massage
Callus Treatment 2
(30 mins) £30.00
Foot spa soak
Peel Treatment
Buff and rasp
Moisturising foot massage
Home care after cream
Deluxe file and polish
(45 mins) £30.00
Foot spa soak
Peel Treatment
Buff and rasp
Moisturising foot massage
File
O.P.I gelcolor
Ultimate Pedicure
(1 hour 15 mins) £37.00
Foot spa soak
Peel Treatment
Buff and rasp
File
Cuticle work
Moisturising foot and leg massage
O.P.I gelcolor
Callus after care cream 50ml £7.50
Extra £5 for additional 2 pads